Aon: Voices of the Nonphysicals
Powerful information, never before revealed. Discover the origins of the universe from the perspective of those who created it. 13 Great Beings of Light reveal their involvement in creating the universe and humanity. The role of Oversouls with stars, planets, and individual physical beings. The original Earth of billions of years ago is revealed. Earth's Golden Era and its tragic history. Practical guidance on discovering who we really are and how to live at higher consciousness. Real meaning for our lives.
"Aon" is available at Amazon.com in printed form and
Kindle

.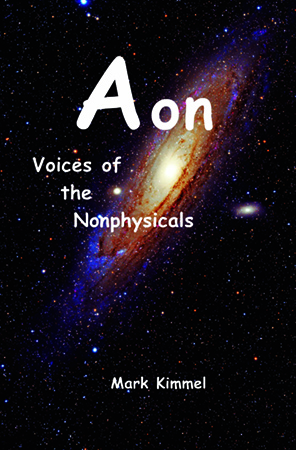 Purchase an autographed copy of "Aon" by Mark Kimmel: $19.95 plus $5.25 for shipping and handling —
U.S.A addresses only.
Via Credit Card or PayPal:
————–
Countries outside of U.S.A. We do not deliver to countries outside the U.S.A.. Use Amazon.com

————–
Or purchase "Aon" Via Mail (U.S.A. Only):
Send $25.95 in cash, check or money order to:
P.O. Box 538
Arroyo Grande, CA 93421
Make checks payable to Paradigm Books