Experience where our path of planetary self-destruction leads.
See that there is hope.
Understand how extraterrestrials have impacted the development of humanity.
Learn how successful Earth-humans have been at reverse-engineering UFO technology.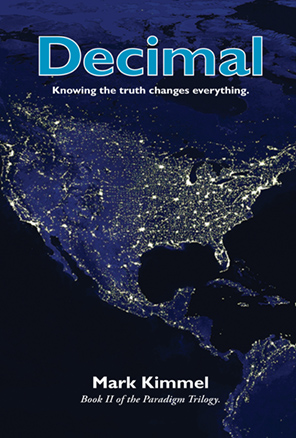 Many readers of Trillion by Mark Kimmel believe the tale told in that book is mostly true. Are you one of those who discovered your story within its pages? In Decimal, the clash between those who know about cosmic reality and those who would conceal it continues. Will you find your truth herein?
The Continuing Story of Ryan Drake: Ryan Drake and his two off-planet friends narrowly escape being killed when they return to his home near Boulder, Colorado. A close business friend is murdered. Ryan barely survives when his car is forced off the freeway. In an effort to stop further attempts on their lives, Sarah Smith and Peter Jones, Ryan's extraterrestrial friends, make a public announcement of their identities and their mission to Earth. Despite the world-shaking evidence that aliens are living among us, and that the fate of the world depends on their message, the media withholds any reference to the event.
When the news finally breaks, a secret cabal has spun it into several colorations and is plotting to destroy the "alien plague." Despite protection afforded by public acclaim, operatives from the cabal kill Peter. This triggers a series of events that reaches to the highest levels of government. Ryan sets out to expose the clandestine threat, prevent the death of the newly inaugurated President of the United States, and save millions from impending disaster.
Like Trillion, Decimal is inspirational adventure, not just a journey through one's imagination. It helps readers discover a new paradigm on how to view the universe, and the reason they are here. Decimal is based on first-hand experiences.
Mark Kimmel
Since 1987, Mark Kimmel has studied the messages provided by extraterrestrials. Utilizing disciplines learned during his business career, he avoids the sensational and fear riddled perspectives that plague many who get trapped in the alien, UFO, or ET phenomena. By focusing on the implications of extraterrestrial contact and the pending transformation of our planet, Mark presents an uplifting vision for the future of this world.
Years before he exited a successful venture capital career, Mark began investigating what he saw as a larger purpose to life. As soon as he abandoned the world of business, the awe-inspiring scope of the larger reality began to unfold. His exciting discoveries are presented in his talks and books. Mark has been listed in Who's Who since 1985. He has degrees in engineering, marketing, finance, and psychology.
Mark is married with two grown sons. He travels around North America meeting with individuals and groups who are interestd in learning more about the Cosmic Paradigm and putting its principles to work transforming the planet.
Testimonials:
Mark Kimmel's emphasis on the spiritual implications of extraterrestrial contact adds an important dimension to the discussion of this, the most important event in human history.
— Dr. Steven greer, The Disclosure project
Fiction is perhaps the most palatable way to break the ice on the whole subject of our place in the cosmos. Mark is well versed in the facts. I had trouble putting this book down.
— Brian O'Leary, former astronaut, author
Mark Kimmel has not only crafted an exciting story, but courageously takes us into possibilities that each of us should ponder.
— Dennis Weaver, actor, author, environmentalist
Decimal is a captivating story that will inspire readers to create a sustainable future for themselves, and for this planet.
— Robert S. Ivker, D.O. President, American Board of Holistic Medicine
Purchase "Decimal" by Mark Kimmel: $19.95 plus $3.00 for shipping and handling
Via Credit Card or Paypal (U.S.A. Only):
Or send $22.95 in cash, check or money order to:
P.O. Box 3568
Pagosa Springs, CO 81147
Make checks payable to Paradigm Books