Mark Kimmel
This book is loaded with information never before published.
It is non-fiction — all about my experiences with great non-physical beings and extraterrestrials.
Find meaning for your life as you realize:
Who I really am
Where I came from
Why I am really here
Where I am going
Find insights into humanity's current condition, as we all struggle to find truth, stability, and inspiration in our daily lives.
Discover why Earth's golden age of long ago is so important for today's humans.
"Cosmic Paradigm" will be available at Amazon.com in printed form and
Kindle

in a few days.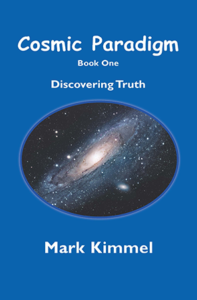 Purchase an autographed copy of "Cosmic Paradigm" by Mark Kimmel: $19.95 plus $5.25 for shipping and handling — U.S.A Only.
Via Credit Card or PayPal:
————–
Countries outside of U.S.A. We do not deliver to countries outside the U.S.A.. Use Amazon.com

————–
Or purchase "Cosmic Paradigm" Via Mail (U.S.A. Only):
Send $25.95 in cash, check or money order to:
P.O. Box 538
Arroyo Grande, CA 93421
Make checks payable to Paradigm Books