Discover how the most important event in history is affecting your life, right now…
Discover the messages that visitors from across the galaxy are delivering.
Discover problems that are about to engulf us.
Discover what you can do…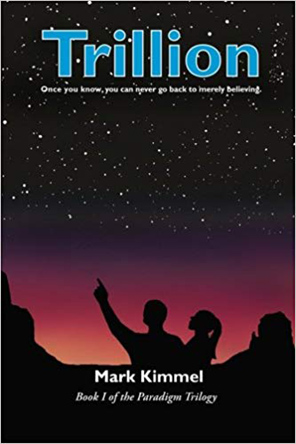 Trillion is more than a good story.
Trillion is loaded with truth.
Discover how extraplanetary beings see our world, how they see us. Discover the messages that ETs are giving to those Earth-humans with whom they interact. Discover the truth behind the mysteries of universe organization and life after death. See the uplifting messages about the transformation of our planet, what our planet could become.
The story of Ryan Drake, a successful entrepreneur, begins in a remote corner of the Navajo Reservation. Through seeming coincidences he meets with a team of extraterrestrials and discovers that his conventional view of the world, of the cosmos, was narrow, to say the least. When rogue agents of the Immigration and Naturalization Service threaten to invade his friends' underground facility, Ryan helps them escape into the Arizona desert. Then he takes them to his home near Boulder, Colorado, and learns that visitors from other worlds are as real as anything he's ever experienced in business.
Ryan's ultimate test takes place when those who oppose the extraterrestrials' mission discover him and his off-planet friends. It becomes a race to see if Ryan and his friends can convince the right people before they are silenced, a race to see if powerful Earth-humans can thwart a mission ordained by the highest levels of the universe.
This inspirational adventure is not just a journey through one's imagination. It helps readers discover a new paradigm on how to view the universe, and the reason they are here. Trillion is based on first-hand experiences. Many readers have experienced a heart connection to Trillion.
Mark Kimmel
Since 1987, Mark Kimmel has studied the messages provided by extraterrestrials. Utilizing disciplines learned during his business career, he avoids the sensational and fear riddled perspectives that plague many who get trapped in the alien, UFO, or ET phenomena. By focusing on the implications of extraterrestrial contact and the pending transformation of our planet, Mark presents an uplifting vision for the future of this world.
Years before he exited a successful venture capital career, Mark began investigating what he saw as a larger purpose to life. As soon as he abandoned the world of business, the awe-inspiring scope of the larger reality began to unfold. His exciting discoveries are presented in his talks and books. Mark has been listed in Who's Who since 1985. He has degrees in engineering, marketing, finance, and psychology.
Mark is married with two grown sons. He travels around North America meeting with individuals and groups who are interestd in learning more about the Cosmic Paradigm and putting its principles to work transforming the planet.
Testimonials
Fiction is perhaps the most palatable way to break the ice on the whole subject of our place in the cosmos. Mark is well versed in the facts. I had trouble putting this book down.
— Brian O'Leary, former astronaut, author
Mark Kimmel has not only crafted an exciting story, but courageously takes us into possibilities that each of us should ponder.
— Dennis Weaver, actor, author, environmentalist
Trillion is a captivating story that will inspire readers to create a sustainable future for themselves, and for this planet.
— Robert S. Ivker, D.O. President, American Board of Holistic Medicine
Purchase "Trillion" by Mark Kimmel: $19.95 plus $3.00 for shipping and handling
Via Credit Card or Paypal (U.S.A. Only):