How would it affect your life if you knew that millions of your sisters and brothers from distant star civilizations were walking this planet?
What is the connection between their presence and this historical moment of Earth's transition?
How can you participate in the positive transformation of this planet?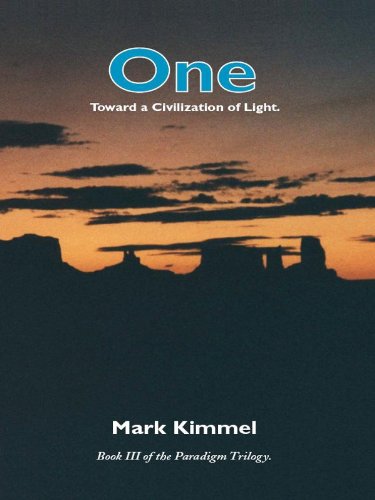 Accompany Ryan Drake, an Earth-human, and Sarah Smith, a human from another star system, as they live through this time of transformation. Experience lives changed by the crumbling of the economy and other familiar institutions, as mankind transcends to live in the light.
Journey with Ryan and Sarah as they uncover more of the secret government that has enslaved mankind, and who has its own plans for a planetary shift. An armada of starcraft, high above our planet, has sent energy to Earth to enable her to shake off the fear that has robbed her of her beauty. It is now sending many who are not of this planet to assist mankind. Learn the other steps they take to assist Earth's transition. Will their assistance be enough? Will it be in time?
One is more than a wonderful story. Uncover practical steps you can take during these uncertain times. Discover the incredible power you have to influence the outcome of the transition to a civilization of light. Learn how you can connect with others who are awake.
Testimonials
I finished "Trillion" and "Decimal" and have about 100 pages to go on "One".  OMG – the books are AWESOME!!  I just wish I had read them before the conference at Janet's.  I think they should be required reading.
— Giovanna, Phoenix, Arizona
"Mark Kimmel's new book "One: Toward a Civilization of Light" is a MUST read! So much is transpiring on earth as we move into oneness. Mark has captured the essence of what is really happening.
— Jean, Minneapolis, Minnesota
Mark Kimmel's emphasis on the spiritual implications of extraterrestrial contact adds an important dimension to the discussion of this, the most important event in human history.
— Dr. Steven greer, The Disclosure project
Mark Kimmel has not only crafted an exciting story, but courageously takes us into possibilities that each of us should ponder.
— Dennis Weaver, actor, author, environmentalist
Decimal is a captivating story that will inspire readers to create a sustainable future for themselves, and for this planet.
— Robert S. Ivker, D.O. President, American Board of Holistic Medicine
Purchase "One: Toward A Civilization Of Light" by Mark Kimmel: $19.87 plus $3.00 for shipping and handling
Via Credit Card or Paypal (U.S.A. Only):