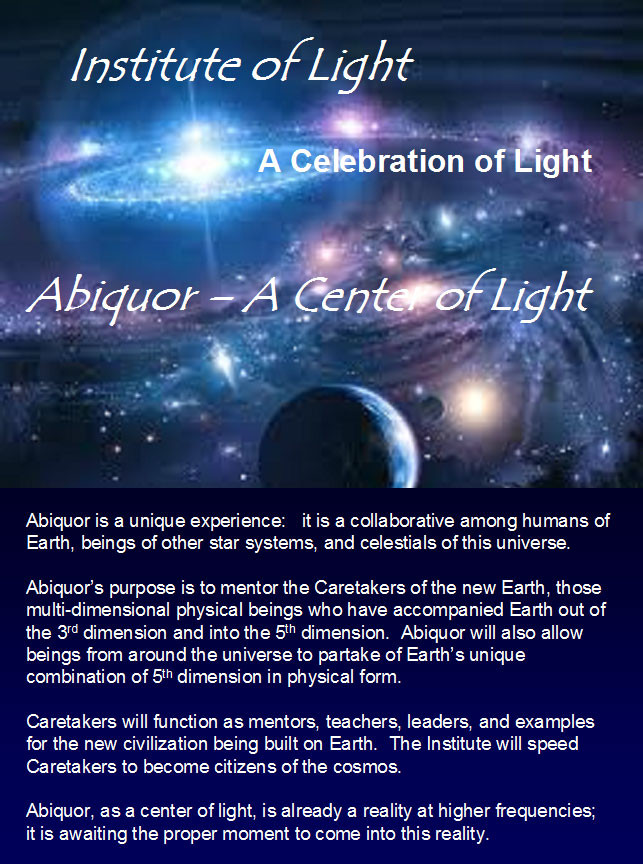 Above announcement courtesy of Tolec
History:The Institute of Light was formed in 2009 as a nonprofit corporation under Colorado law. It has received a 501(c)(3) designation. As a 3rd and 4th Dimension vehicle the Institute of Light has sponsored speakers, workshops, and conferences, such as the recent Transformation 2012. The purpose of the Institute of Light is to "energize Earth's transformation." The direction of the Institute of Light has been carefully encouraged by beings aboard Athabantian, both Andromedans and celestials. Today the Institute of Light has a small office in Pagosa Springs, Colorado that acts a focal point of its activities. There are no employees; everything is done on a volunteer basis.
Abiquor exists (in non-physical form) at the higher dimensions, and as we bring these higher densities into physical form on Earth and in humans, Abiquor will manifest itself. I will have more to say about this in the future as things develop. I already know that Abiquor will be manifested with the assistance of the same beings who created the Institute of Light, plus most importantly, with the assistance of Earth humans. For more information on Abiquor and on the Institute of Light, peruse the postings at Mark's Corner and at Athabantian: http://www.cosmicparadigm.com/Athabantian/ & http://www.cosmicparadigm.com/marks-corner/
The sketch below shows Abiquor among the mountains of southwest Colorado. THIS IS AN IMAGE OF WHAT IS TO COME, AS COMMUNICATED BY CELESTIALS. ABIQUOR EXISTS IN THE 5TH DIMENSION. AFTER EARTH HUMANS TRANSITION TO THE 4TH DIMENSION, ABIQUOR WILL MANIFEST IN PHYSICAL FORM.
We are seeking Earth humans who will assist Abiquor's manifestation by contributing their light energy to making it a reality. You need not be physically present to assist. We are asking nothing more than that you frequently focus your attention on Abiquor with an intention to manifest it along with transitioning to the New Earth.
This is NOT a solicitation for money. We wish only your energetic contribution.
After Abiquor is manifested in physical form, we will be offering courses of study, workshops, and training to assist those humans who are vibrating at the high level of consciousness as Caretakers of the New Earth. Abiquor will also work with those who are cleansing Earth's environment and supplying new forms of energy. Developments will be announced at this site.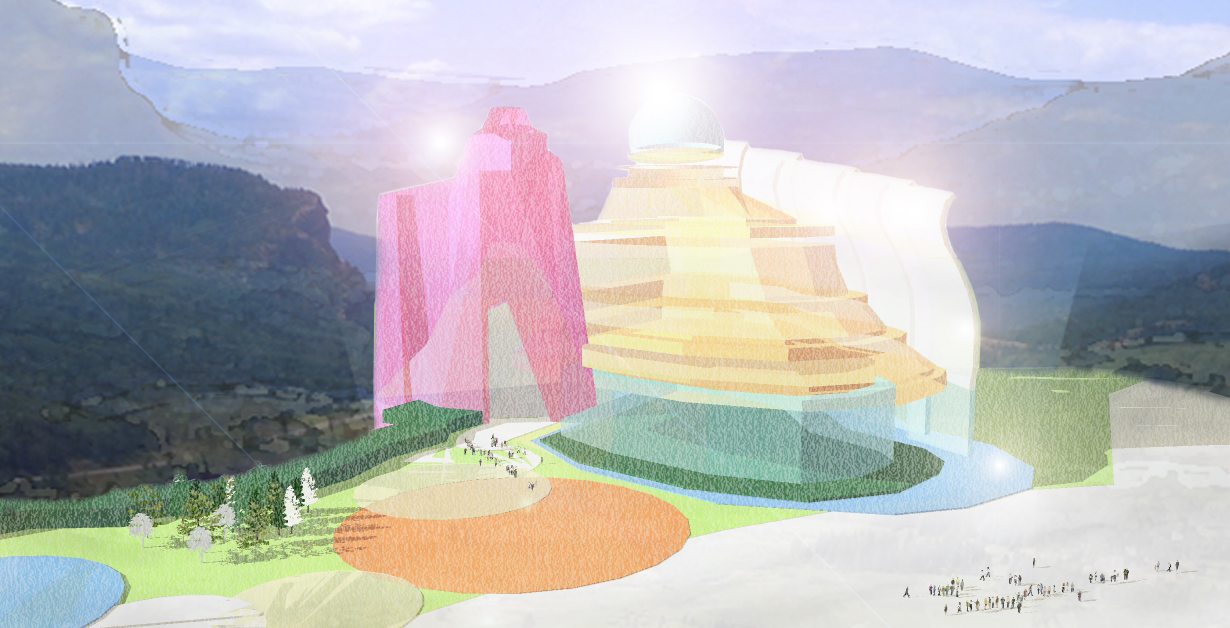 Illustration by Leslee Hare
*Caretakers have been discussed on numerous posting at Mark's Corner and at Athabantian. Use the search feature provided on the appropriate web page to access.
June 14, 2013
Abiquor update
The following information was received through Tolec. At my request he inquired of the Andromeda Council about their current vision of Abiquor. What follows is a summary of that information.
Abiquor will happen and will be quite important as a teaching and reception center. If we wish to build it in the near future it should be constructed to the east of Pagosa Springs, as Pagosa is due to be flooded by the incursion of waters from the ocean. Abiquor will be one of several centers of light around the globe.
If we wait until after the transformation, the Andromedans will construct it for us using their technology to create crystal structures. They will build it even further east of Pagosa Springs.
In Truth, Love & Joy,
Mark Kimmel